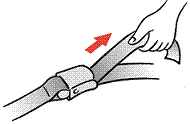 Archives
February 2006
March 2006
April 2006
May 2006
June 2006
July 2006
August 2006
September 2006
October 2006
November 2006
December 2006
January 2007
February 2007
March 2007
April 2007
May 2007
June 2007
July 2007
August 2007
September 2007
October 2007
November 2007
December 2007
January 2008
March 2008
April 2008
May 2008
June 2008
July 2008
August 2008
September 2008
October 2008
November 2008
December 2008
January 2009
February 2009
March 2009
April 2009
May 2009
June 2009
July 2009
August 2009
September 2009
October 2009
November 2009
December 2009
January 2010
March 2010
April 2010
May 2010
June 2010
July 2010
August 2010
September 2010
October 2010
November 2010
December 2010
January 2011
February 2011
March 2011
April 2011
May 2011
June 2011
July 2011
August 2011
September 2011
October 2011
November 2011
December 2011
January 2012
March 2012
June 2012
July 2012
August 2012
September 2012
October 2012
December 2012
February 2013
March 2013
May 2013
July 2013
January 2014
February 2014

Name: Melissa
About Me
Countries Visited (not including Turnarounds): Australia, Austria, Azerbaijan, Belgium, Bosnia & Herzegovina, Brazil, Canada, China, Czech Republic, Denmark, Estonia, Finland, France, Germany, Ghana, Great Britain, Greece, Iceland, India, Italy, Japan, Kenya, Latvia, Libya, Lithuania, Malaysia, Malta, Mauritius, Moldova, Monaco, Morocco, Netherlands, New Zealand, Nigeria, Norway, North Korea, Philippines, Romania, Russia, Singapore, Senegal, Serbia, Seychelles, South Africa, South Korea, Spain, Sri Lanka, Sweden, Switzerland, Tanzania, Thailand, Tunisia, Turkey, Uganda, United Arab Emirates, United States, Vatican City
My Perfect Day in -
London | Perth | Sydney | Melbourne



Site Feed -
http://tampaxtowers.blogspot.com/atom.xml



My Email -
tampaxtowers[at]gmail[dot]com



My Facebook -
Tampax Towers



My Twitter -
@melissaecholima



Links -
Airline Crew.net
Airline Uniforms
Airline Meals
Seatguru - Most Comfy Seats On Any Airline
Trip Advisor
Airtoons
pprune.org - Pilot's rumour network



Friends -
Kangaroo with a Sweet Tooth
Kronicles of Kris
The Adventures of Alle Malice
Joel's trek across Asia/Europe in a Hilux
Phil's Wine Site



Blogs I read -
Tray Table
Airboy
Lifehacker
I Can Has Cheezburger
The Flying Pinto
Girl on Raw
Things Bogans Like
Bobby at Up, Up and a Gay
Straight Guy in the Queer Skies



Credits -
Skin by Falter
BlogSkins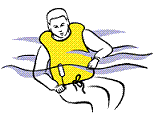 Latest Updates
Friday, June 29, 2007
Anyone heard Dschinghis Khan's Moskau? I had that in my head pretty much the whole flight. And wasn't it a cruisy flight, only one service, and on the way there we had 22 passengers in business, on the way back a whopping 12. Plus on the way there we had a VIP in first class. Who else but Kostya Tszyu! So cool...
Mind you, there were dramas during the entire trip. Like the three girls who just barely looked 21 who knocked back double scotches as if it were water. The computers at briefing being down, then arriving at immigration and having to wait almost an hour and a half as they wouldn't accpet our paperwork and needed new papers faxed through. Arriving at the hotel 4 whole hours after we landed in Moscow. Going out to do some sightseeing, and for some reason I was allergic to something there, because I couldn't go 5 minutes without sneezing. then waking up the next morning with the ugliest rash on my face. I tell you what, MAC does wonders at covering such gross things. So yeah, after all that, here's the photos I took. Also got these beautiful Matroyshka dolls, which now have a home above my TV.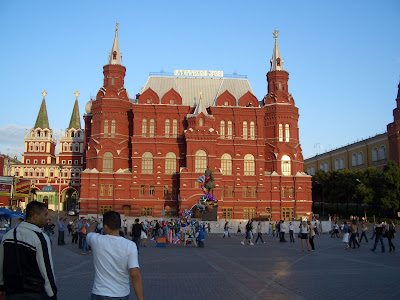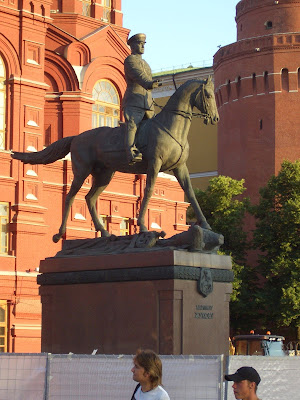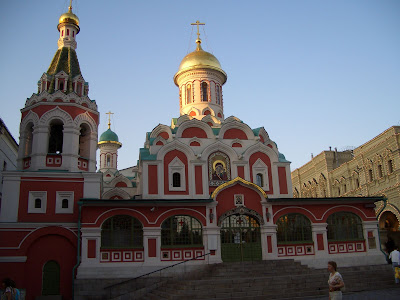 Loving the architechture inside and around the Red Square.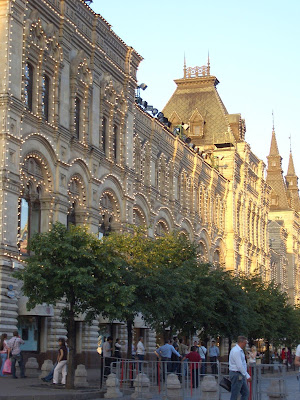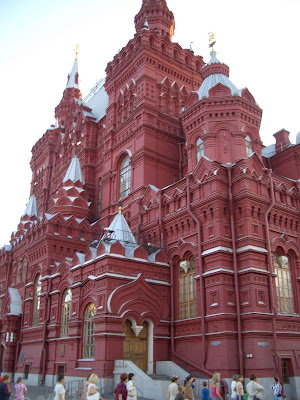 St Basil's Cathedral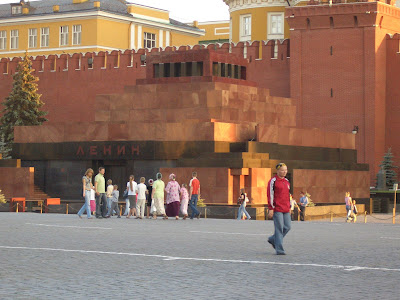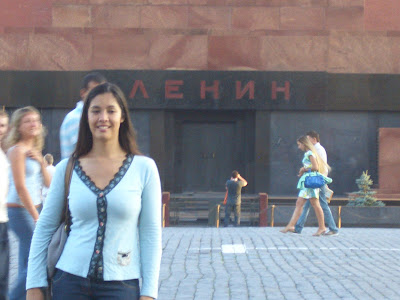 Lenin's Mausoleum. Didn't go inside and see him, everything was closed. It was around 9.30pm when we went there too.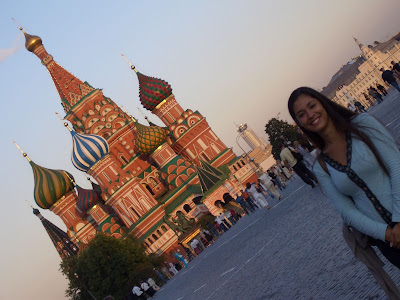 My favorite photo of the trip. Roya can really take them!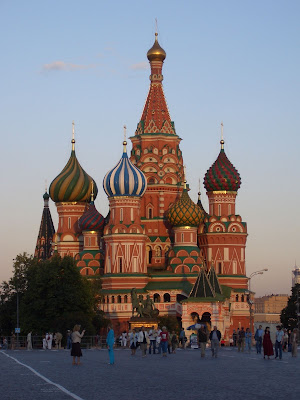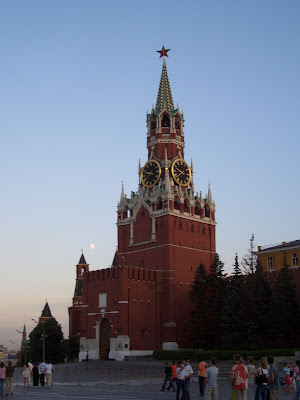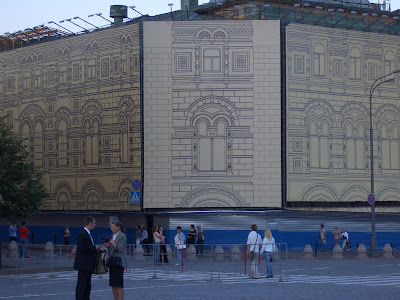 Something being renovated. Just thought it was cute that they marked everything out, so you can imagine what'll be like when it's finished.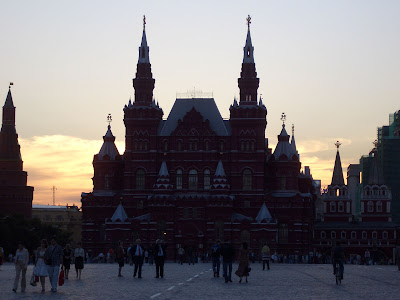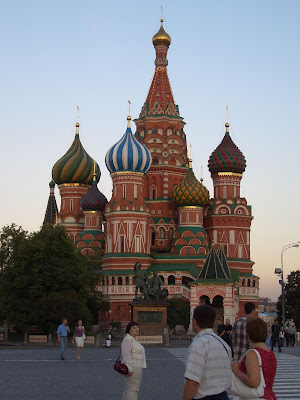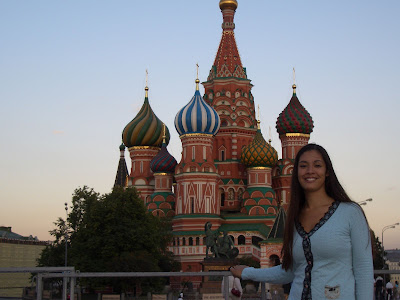 Me before the onset of that ugly rash.
So... now I have about 600 Roubles which I cannot exchange ANYWHERE outside of Russia, which is very annoying. The exchange office had to close when we were having our pickup, so convenient. Any crew mates going to Russia, let me know...
Coming up this month, I scored London Gatwick, the 4 day Milan (Oh Yeah!), Alexandria (What??? I'm top bid!), Vienna and Perth, but I'm going to try to swap the Perth, as it's close to my leave anyway. Will keep you guys informed.
13 comments
Here are the photos from my Osaka flight. The flight itself was interesting. We had one Japanese crew in business, and we let her take galley, as Jo and I were both quite intimidated with all the bits and pieces required for the service. As much as I love the Japanese, and how sweet they all were, it was hard to relax, as there were so many things we had to do, and the service took forever. Plus I felt I was the designated crew psychologist on board with quite a few crew coming to me with their martial problems. So it was a relief to arrive at the hotel, put on my yakuta, give the electric toilet a try and fall asleep.
The next day we all decided to head over to Kyoto as it was more the traditional side of Japan and in quite stark contrast to Osaka and it's massive skyscrapers.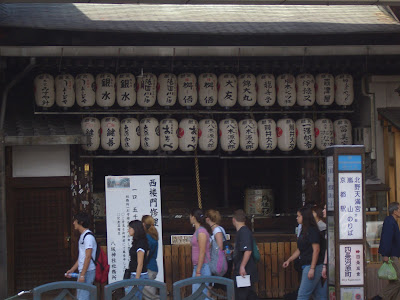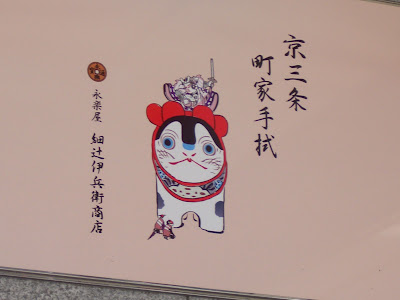 Don't know why I took this.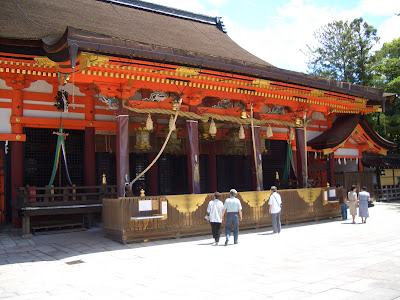 Love their temples. So massive and pretty...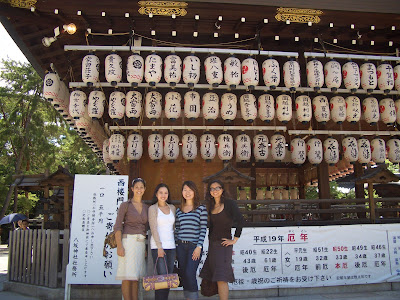 The girls. Me, Belinda (Philipines), Joanna (Singapore) and Audrey (Malaysia).
Me, Fadi (Lebanon) and Joanna. If it wasn't for Jo's scratchy Japanese, we would still be stuck in Kyoto. Which wouldn't have been a bad thing.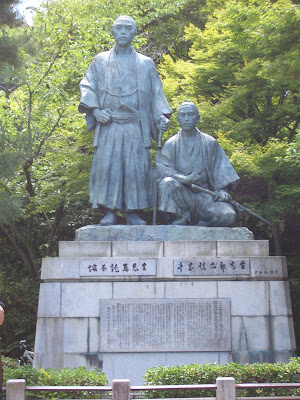 Cool statue...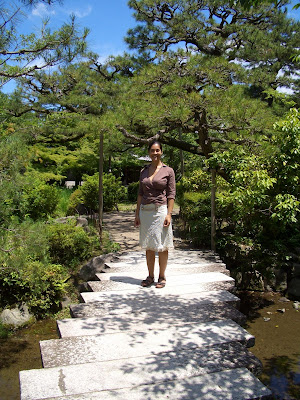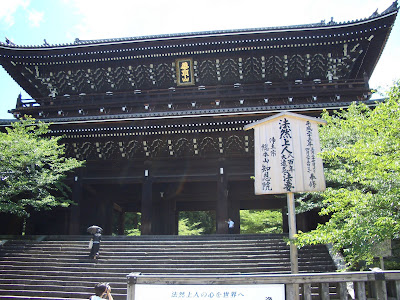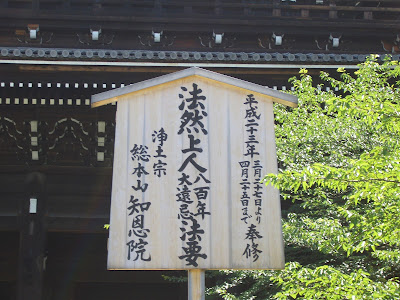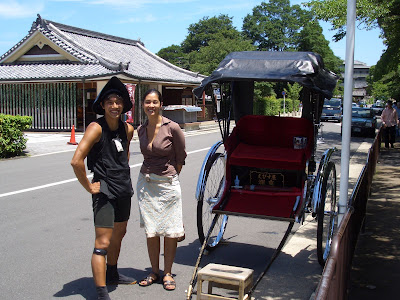 Hot piece of Japanese man meat. Well, he had nice muscles. You should have seen some of the hotties on the train back from Kyoto to Osaka. Goddamn.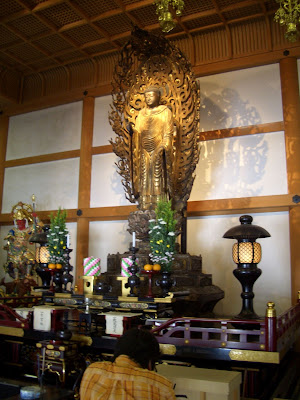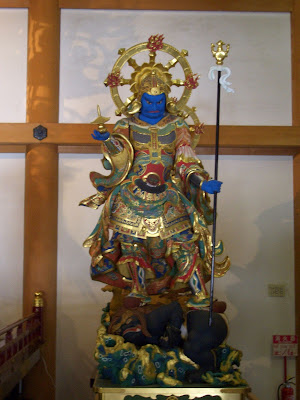 Wish I knew Hirigana/Katakana so I could write messages to the Shinto Gods. Calligraphy was the challenge and us westerners struggled.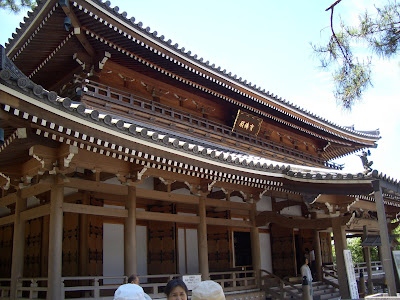 Yes, well we're not allowed to take pictures inside of this temple, so the best we could do was an outdoor shot.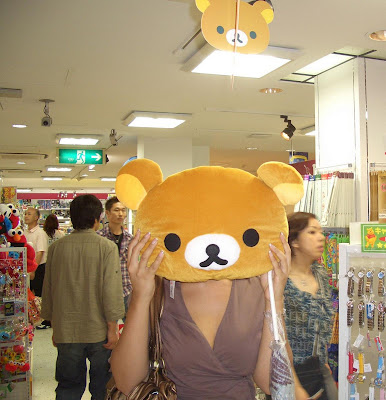 Me being stupid in Kiddyland. The 5 year old girl looking at all the Rilakkuma things must have thought I was a very atrange being. Bought lots of cool stationary anyway...

Tuesday, June 19, 2007

Just wanted to let you guys know I've hit 10,000 visitors. Having a mini-celebration in my lonely apartment (For those who didn't know Ash moved out) with some ice cream and peanut M&M's. Was after some Maltesers, but alas it skipped my mind when I was in Carrefour.

In 2 days time I'm off to Osaka, which should be very interesting. Been hearing about this store called MUJI, and on advice from a mate here I feel like checking it out. Also have a Moscow afterward, which I swapped for a KL, as I'd never been there before. Then after that I have a flight to Malta. I came back from Malta 2 days ago, and this was after coming back from Perth the day before, and I was so tired, just slept, had drinks with the crew, then felt too crook to go out for dinner, and went to bed. Considering it's one of the most sought after flights in our network I felt so bad doing nothing while I was there. But I have this next one coming up so will try and sneak in some photos for you guys.

In the meantime take care of yourselves. Never know when I might pop up next in Perth...

Labels: Random Thoughts, Work

7 comments

Thursday, June 14, 2007

Was pretty lucky this month. Had my birthday 'off' (it was actually a rest day, and I couldn't do a great deal, plus my mates were either on leave or on layovers), and got exactly what I bid for. Beijing was one of those flights. I tried to get the two day layover, but wasn't so lucky, and a 30 hour layover I could easily settle for.

Quite a bit of it was under construction as well, so that it's biggest tourist attractions would be fit for the hoardes of tourists expected to visit the city during and shortly after the Olympic games. It still had it's little charms and I had a much better time here than, say, Shanghai.


The Silk Market was particularly interesting. Shopping wise this is the place tourists flock to (I guess the only way a local would be caught dead here is if they were workign there) and from start to finish you get hounded in broken english to buy all sorts of things you don't need. At one stage I walked past a stall selling pashminas and the sales assistant (and I am not exaggerating here) grabbed my wrist, had it in some sort of monkey grip and hauled me into the store. My shoe's rubber soles were no match for her. I had no interest in purchasing a pashmina but she was keen. I finally broke away, wrist still quite red and sore. It was in a tug-of-war for a good 3 minutes.
Psychedelic Tobogganing at the Great Wall of China
Claude, our wonderful purser, enjoying himself on the kiddies toboggan

Only a tiny section of the wall, said to stretch through 9 provinces in China

I'm sure if I stuck my neck out further I'd reach Mongolia

The obligartory group photo
And if you hadn't figured it out already, I'm at the Great Wall of China


The trip was certainly interesting with these two clowns
Keeping an eye out for lunatics like ourselves


Making the most of a Forbidden City that's heavily under construction

Just admiring the incredibly intricate paint work

The male and female lions guarding the entrance to the throne of the Emperor. The male lion has a ball under his paw, the female lion has the lion cub.
The Emperor's throne
The wall the concubines had to climb up to catch a glimpse of life outside the Forbidden City.
Labels: Layovers
3 comments
I know, it's been ages since my last post. But I'm a slacker by nature. I have always meant to post photos, but these have to be done with captions, and then I feel compelled to write a whole novel, and so put it off. So yeah, just gonna put up as much stuff as I can now and get myself updated. And I'll start with my pictures from Sentosa Island in Singapore...



Cable car we went into on our way to Sentosa



Yuko, Marie and Maria



Me, Marko and Monpicha
Turns out I was the only one gutsy enough to hold the snake. Never done it before, and not going to do it agian any time soon...
Us girls waiting for the Dolphin show



It's pink!!!

Standard hoop-jumping fare


At the beach, ready for a swim, well Marko was anyways


And Singapore isn't Singapore without some unpredictable weather. This is me drenched after riding the chair lifts in the rain.

Labels: Layovers, Random Thoughts

0 comments